I've done a large variety of special projects with awesome companies (this is a sampling)
With Abrams publishing and Adventure Time I cosplayed (bodypaint not a mascot suit) the character Hunson Abadeer as a part of the promotion for The Adventure Time Encyclopaedia (Encyclopedia): Inhabitants, Lore, Spells, and Ancient Crypt Warnings of the Land of Ooo Circa 19.56 B.G.E. – 501 A.G.E. as well as doing video for the panels.
---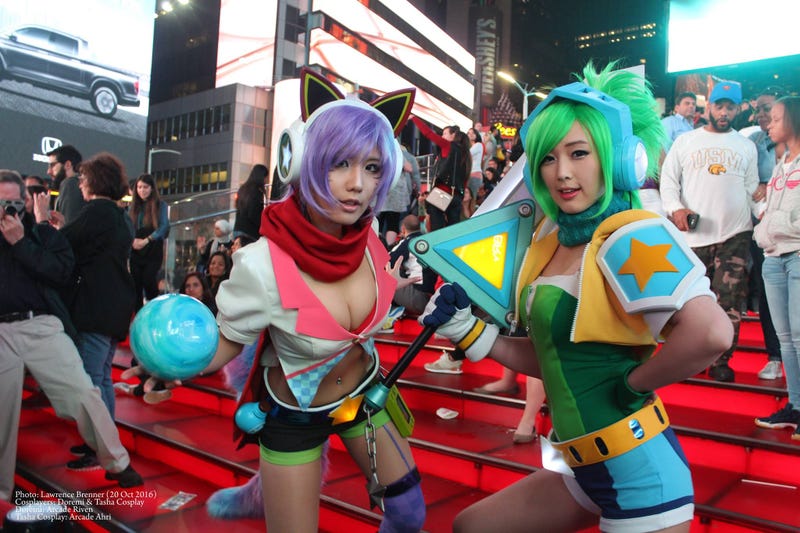 With Riot Games I did a special photoshoot with the Spiral Cats from Korea when they were visiting New York for the League of Legends North American finals.
This was covered by Kotaku.
---
With CLEAR I worked to make the websites for them and partner companies accessible for the blind, fully compliant with Section 508 regulations
---
With Japan Society I have advised on several pop culture events such as Krazy Cosplay Party (https://www.japansociety.org/krazy_cosplay_party_wrapup | https://www.japansociety.org/event_detail?eid=30d38e21)
---
With PAX (and usually PAX East) a part of the ReedPOP family of conventions and events I work to moderate, interact and engage socially, and more on the official livestreams https://www.twitch.tv/event/pax
---
With Her Universe I worked in setup and operations including press and media relations for the Her Universe Fashion Show and had my photo was used as the primary lead for the Her Universe Fashion show in 2016:

---
With Star Trek Adversaries I lead modifications to their website so it can better support interested and engaged players.
---